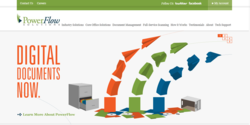 St. Louis, MO (PRWEB) July 24, 2012
PowerFlow Solutions recently launched their new Auctori web CMS (Content Management System) website to support content management behind the PowerFlow website. PowerFlow document management software was developed to capture document images making them more manageable as digital files.
For their new website, PowerFlow needed scalability, security, search engine optimization (SEO) and ManyLingual capabilities. Using Auctori makes website management easy with the ability to change pages, update content, add documents, modify user accounts and edit photos, while improving SEO, security and scalability.
Auctori is a very user-friendly yet powerful CMS, said Steve Thomas Vice President of Sales and Marketing for Unidev, Auctoris parent company. The PowerFlow design and development, like all Auctori sites, is highly customized to their industry and business goals with specific calls to action and conversion methodology.
The Auctori team planned the navigation, implemented the initial page build and populated all of the web pages with search optimized website content. PowerFlow utilized several features and modules on the new Auctori website. Those features and modules include the customized form module, article module, video module and blog modules.
Were extremely excited about implementing our new website in Auctori, said Brett Taylor, Sales Executive at PowerFlow Solutions. Not only is Auctori a great web CMS, but it also allows us to manage our website more efficiently. That is so important to us.

PowerFlow can use Auctori to gather marketing data, email confirmations, post press releases, share information about events and more.
About Auctori