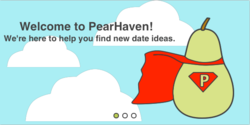 Austin, TX (PRWEB) March 14, 2013
PearHaven.com's date idea website is celebrating its successful first year since being launched at South by Southwest in Austin, TX, March 2012. The free sign- up website offers members a place to record their memories, earn badges, post photos and find new date ideas. The site uses Foursquare.com which helps provide users with personalized recommendations and deals when they are out and about or even traveling outside the USA.
With the development of its iPhone and iPad App, PearHaven members can be on- the -go, finding new date ideas, posting their own date ideas or recording their memories with photos. The App has a 5 star rating with one users comment, I think this is a great way to get ideas.The app is clean, easy to navigate, and full of great ideas from people just like me.