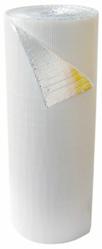 Urbana, IA (PRWEB) January 31, 2013
Students at HoneyFern School in Marietta, Georgia learn in a progressive, student-centered, project-based curriculum. In an effort to become more independent and create a mortgage-free future for herself, 12-year old Sicily Kolbeck has decided to try her hand at designing and building a tiny house.
Sicilys mom and HoneyFerns founder and teacher, Suzannah Kolbeck, was all for the idea. Together they began researching eco-friendly products and building supplies and came across news of EcoFoils donation to another tiny house project, chronicled at Tiny r(E)volution.us.
The Kolbecks contacted EcoFoil and the e-commerce retailer supplied double bubble insulation and insulation tape to the project. The products, which are also useful for metal building insulation, were used to line the bottom of the metal trailer which serves as a foundation.
The construction process of the tiny house began in August of last year and is being chronicled on Sicilys blog, La Petite Maison, which includes a link for readers to make a donation to the project. Theyre also saving money and following the tiny home environmentally-friendly concept of using as many reclaimed and recycled materials as possible.
Our plywood came from packing boxes at the Atlanta airport; our roofing, front door, wiring and window were reclaimed from a construction project done by a friend. Were also visiting the Habitat for Humanity Re-Store and checking Craigslist, said Sicily. I have a flexible design, so I can change it depending on what materials I have."
EcoFoil's Kati Davis says the double bubble insulation is a great choice for tiny house projects: "The EcoFoil double bubble insulation, which reflects radiant heat, is a smart, eco-friendly approach to insulation that helps achieve the goal of creating the most energy-efficient structure."
The small house movement is gaining in popularity across the country as eco-conscious home owners embrace the idea of living more simply and using sustainable, eco-friendly products. Tiny house projects generally range from just 65 square feet to 874 square feet and include complete living quarters. While some can be built with a more traditional foundation, many are built on trailers to make them portable.
Sicilys 128 square foot space house is being built on a donated 8′ x 16′ trailer, with her and her father doing the majority of the work on the project. Its slated for completion in time for the end of the school year in May. Sicily already has plans for her new tiny house: "Im going to live in the house in our backyard, but I may already have a buyer. If I sell the house, I will probably live in it for a couple years, then use half of the money for college, and the other half to build another one. I already have several other designs in mind."
The project has been a learning experience for the Kolbeck family as well as all of the students HoneyFern School.
"This is a revolutionary kind of education, and it is the one that works the best: hands-on, real-world. Sicily is applying physics, engineering, design, and construction skills, solar power…the list goes on, says Suzannah. The learning is tremendous, and she would not have this opportunity in a traditional school setting.
About EcoFoil

EcoFoil