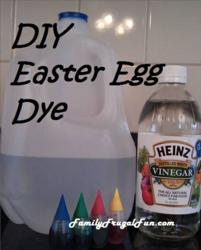 (PRWEB) March 04, 2013
With Easter quickly approaching you'll be interested to know how easy it is to make your own homemade Easter egg dye kit. With the promise of candy at Easter, kids are excited to start Easter Egg decorating & festivities.
"I have fond memories of Easter Egg decorating as a child," says Maggie Miller frugal living expert and family blogger at http://familyfrugalfun.com/. "I've made Easter egg decorating frugal so it costs just pennies and there's no need to purchase expensive Easter egg coloring kits now," says Ms. Miller. With my simple 3 step recipe you'll be decorating Easter eggs in a snap," she says. You can find her recipe at: http://familyfrugalfun.com/diy-easter-egg-dye-how-to-make-homemade-easter-egg-dye/.
FamilyFrugalFun.com is a blog about frugal living tips, creative ideas for parents and having fun for families. It was established over two years ago and quickly became a hit as evidenced with the blogs high Facebook Fan count. Beth Rose and Maggie Miller are frugal living experts and co-author of Top 100 Mobile Text Coupons on Amazon's Kindle. Ms. Miller has been seen on Good Morning Delmarva, had frugal tips in All You Magazine and had their blog voted CBS Baltimore's Most Valuable Blogger People's Choice Award in 2011. She recently created the wildly popular 12 Month Frugal Living Calendar. You can also find Ms. Miller's creative ideas on Pinterest & YouTube.