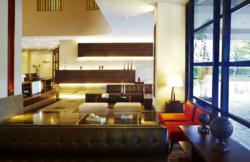 Sao Paulo, Brazil (PRWEB) December 20, 2012
The Sao Paulo Airport Marriott Hotel has launched a new lobby stylized after the Great Room concept. The 1,000 square-meter lobby area integrates the front desk, business center, lobby bar and restaurant areas for a unique and sophisticated environment.
The new Great Room at the Sao Paulo hotel allows the merger of social and business activities with more privacy thanks to the Individual Zone Sofas and mingling areas at the Communal Tables for small groups. The entire space has wireless Internet access.
The Guarulhos airport hotels front desk has three individual service stations, with reserved exclusively for Marriott Rewards Elite Members, providing a new experience.
The Caf