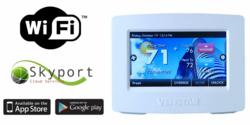 Burbank, CA (PRWEB) March 25, 2013
Venstar Inc., in conjunction with 981 Media, today launched the first video in its Commercial ColorTouch TV video series. Available online now, the first video is titled, Setting up Skyport. The new series includes detailed how to videos designed to help business facility managers easily program, customize and make the most of their Commercial ColorTouch Wi-Fi Thermostats.
In this episode, Commercial ColorTouch TV host Arloa Reston shows users how to set up a commercial Venstar Skyport account and walks users through some of Skyports major features, such as how to monitor and control comfort settings and monitor thermostat information, including system run times and current usage. Users also learn how to remotely prevent unauthorized use with an auto-screen lock and set-point limiting, which prevent anyone from changing the thermostat temperature settings. Skyport account users will also be shown how to schedule thermostat settings in advance for holidays or recurring unoccupied days for 365 days of the year. With Venstars Skyport Wi-Fi service, users can easily set up and adjust all these settings via the Internet.
To watch the video, visit: http://www.youtube.com/watch?v=R85OG8PU3vQ
"This step-by-step video shows Commercial ColorTouch Wi-Fi Thermostat users how to set up their Venstar Skyport accounts and quickly be on their way to easily and remotely monitoring their HVAC service needs," said Austin Brooks, the creative director at 981 Media. Showing business owners and managers how easy it is to program their Commercial ColorTouch thermostats helps them quickly understand and effectively use the thermostat features. Running a business is always a big job; with these videos, we make things a little bit easier.
With more than 3 billion hours of videos watched each month on YouTube alone, the demand for video is increasingly becoming an essential part of online marketing and education.
To view all of the Commercial ColorTouch TV videos, visit http://www.venstar.com/tv/.
About 981 Media
981 Media is a Los Angeles web design company that specializes in helping business succeed online by creating innovative websites, videos, mobile apps and online marketing campaigns.
About Venstar
Founded in 1992, Venstar Inc. is a leading thermostat and energy management system (EMS) supplier, known for providing value to its customers via ease of use and installation, proven cost savings, improved energy efficiency, quality and reliability. Venstar is one of the largest thermostat suppliers in the world and designs and produces Venstar-branded products, as well as OEM thermostat products for the biggest names in HVAC. Venstars Surveyor is a leading energy management system, typically saving small-box retailers 25 percent of their energy costs, which translates to millions of dollars in savings and dramatic reductions in C02 emissions. Surveyor currently controls the energy usage of more than 15,000 retail locations across the United States, Mexico, Puerto Rico, and Canada.
Visit Venstar: http://www.venstar.com